Google has been investing big time in not just becoming an energy-efficient company, but also working on technologies that can create renewable energy. In this Google blog post, Google's Senior Vice President, Technical Infrastructure, Urs Hölzle declares that Google is set to reach 100% renewable energy consumption as early as 2017. He also says that the Google data centres are anyway 50% more energy efficient than the industry average.
Data centers are the backbone of the internet, processing and storing huge amounts of information. Our engineers have spent years perfecting Google's data centers, making them 50 percent more energy efficient than the industry average. But we still need a lot of energy to process trillions of Google searches every year, play more than 400 hours of YouTube videos uploaded every minute, and power the products and services that our users depend on. That's why we began purchasing renewable energy — to reduce our carbon footprint and address climate change. But it also makes business sense.
Google is the world's biggest corporate buyer of renewable energy. 44% of its power needs are met by solar and wind energy.
Switching to renewable energy also makes business sense. Most of the operating cost in various Google data centres goes towards its energy needs and over the past six years the cost of wind and solar energy have come down to 60% and 80% respectively.
These are a few figures that define in numbers how Google has been successfully switching over to renewable energy sources for its power needs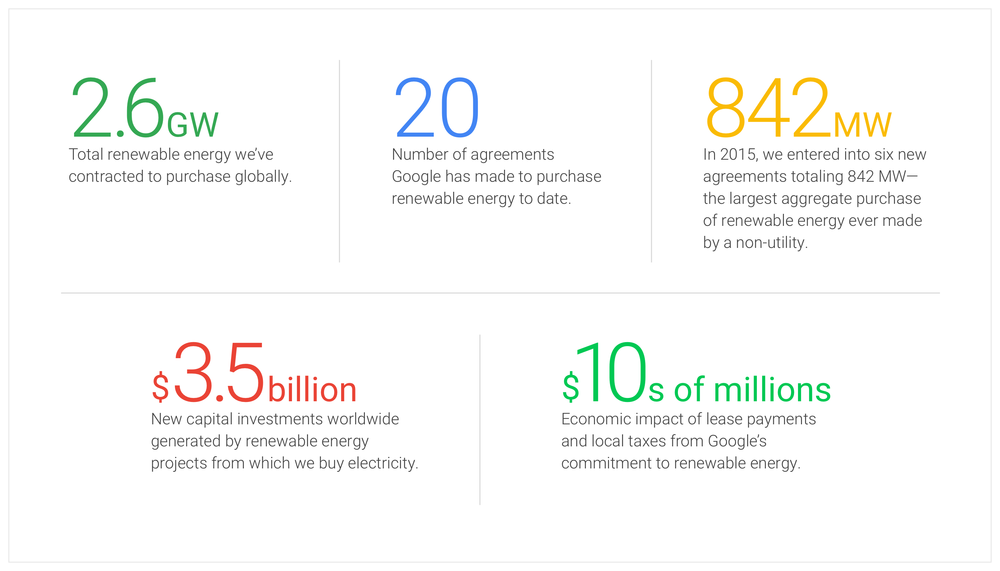 Google also has a dedicated website on how it tries to make a positive impact on environment and also create self-sustaining communities around renewable energy projects.